News
Read our latest news
Celebrating 25 years of BALI membership
Tue 31 May 2022
---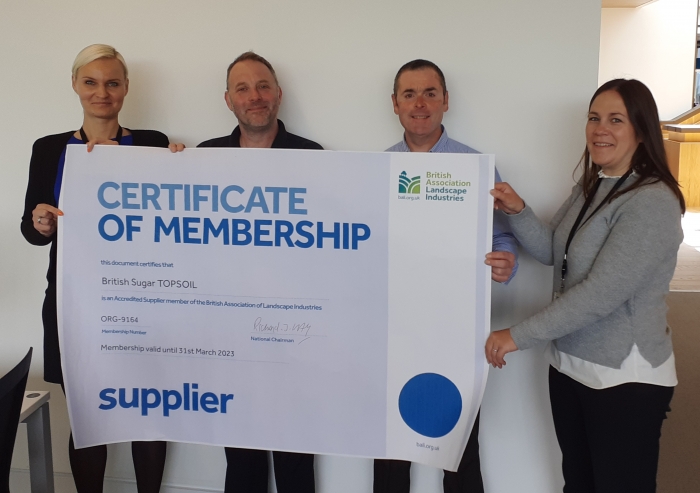 We are delighted to be celebrating our Silver Anniversary as Accredited Suppliers of the landscape industry's premier trade body, the British Association of Landscape Industries (BALI). Over the past 25 years we have seen many changes in both the Association and the industry it supports.
When National TOPSOIL Manager Andy Spetch established British Sugar's TOPSOIL division, joining a reputable trade body to help guide him through an industry with which he was not familiar was one of the first things he did. In 1997 BALI was already a force to be reckoned with and, having done his homework, Andy applied for what was then referred to as BALI Registered Affiliate membership.
With little experience of the landscape sector, Andy attended regional BALI meetings in East Anglia and North Thames and received invaluable help and guidance from former BALI national chairmen John O'Conner of John O'Conner Grounds Maintenance, and Neil Huck, then with Ground Control. Both these stalwarts of the industry, who sadly are no longer with us, were encouraging and supportive and Andy learned a great deal about how landscape contractors operated and how TOPSOIL products could meet their requirements.
From those early beginnings the rest is history. TOPSOIL embraced BALI membership and, after serving on the East Anglia Region committee, Andy was encouraged to stand for election as a board member of the Association. He was duly elected to represent the Affiliate (industry suppliers of products and services) membership. During his time as a BALI board director he introduced Affiliate-specific meetings at Landscape House, which brought the Affiliate membership together on a regular basis, and British Sugar TOPSOIL was one of the first winners of the Affiliate Exceptional Service Award at the BALI National Landscape Awards. TOPSOIL sponsored the BALI Awards Design & Build category for many years.
TOPSOIL continues to support the Association whenever, and however, it can. Andy is on the North Thames Region committee, and also a GoLandscape Ambassador, bringing the landscape industry to the notice of school and college students, and career changers. He also organises visits to British Sugar factories for BALI members and others to see the sugar refining process and learn how topsoil manufacture contributes to making British Sugar's operations environmentally sustainable.
Andy's staff are also encouraged to support the Association, and TOPSOIL Sales Manager Grace Townsend is currently serving on BALI's Midland Region committee. TOPSOIL also donates product for charities linked to landscaping and horticulture such as HighGround, which helps Service leavers and veterans find careers in the land-based sector. Recently, TOPSOIL supplied the topsoil for the horticulture charity Perennial's RHS Chelsea 2022 garden, With Love, designed by Richard Miers and constructed by BALI Contractor Stewart Landscape Construction. It won an RHS Silver Medal, and the coveted People's Choice Award.
TOPSOIL is proud to be a long-serving BALI member and looks forward to continuing to support the Association into the future.
---
---
British Sugar TOPSOIL announces £500 Training Bursary recipient
Wed 3 August 2022
We are pleased to announce the British Sugar TOPSOIL £500 Training Bursary...