✕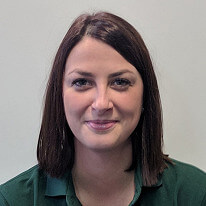 Natalie Gudgin‭ ‬
National TOPSOIL Manager
Natalie.Gudgin@britishsugar.com
Natalie joined British Sugar in 2009. Initially working on the Agriculture helpdesk, Natalie handled enquires from beet growers and supported the TOPSOIL team. In 2012 Natalie joined the TOPSOIL team. Natalie predominately sells out of our Bury factory, into Norfolk, Suffolk, Cambridgeshire and Essex.
Natalie also attends national and regional events each year such as Saltex, BTME, NHBC days and supports local BALI and BIGGA events. She has recently passed her GMA Level 2 Winter Pitches (Applied Turf culture) qualification. Over the last 11 years she has gained experience through working with RHS Hyde Hall, Garden design workshop with Adam Frost, attending local Greenkeeping open days at Ely and Middleton Hall and working with the Suffolk and Norfolk FA.
Outside of work Natalie has a passion for travel visiting several countries in South East Asia, Australasia and the Caribbean. Natalie also has interests in yoga, reading, music and walking her dog Olivia who she adopted from a shelter in Greece.