News
Read our latest news
Take control of your money with help from Perennial
Wed 28 October 2020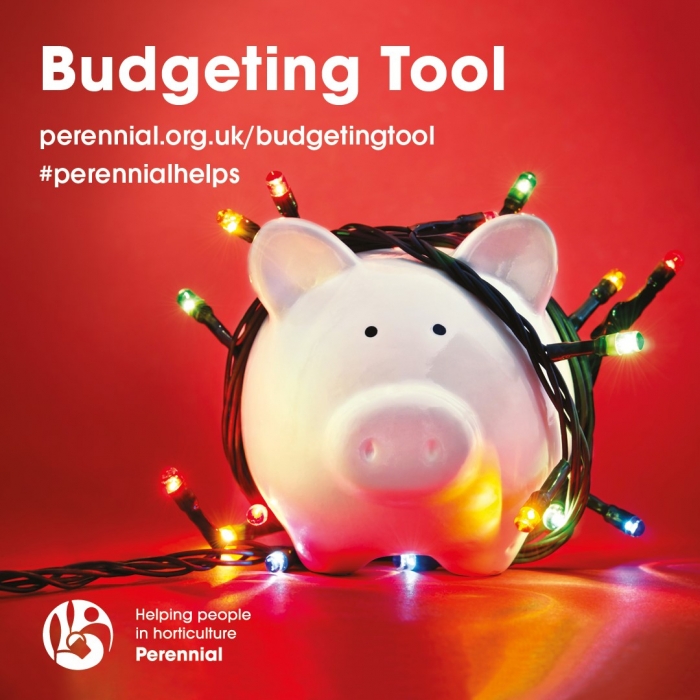 Get ready for the expense of Christmas with Perennial's online budgeting tool
Perennial, the charity for people in horticulture, is helping those working in the sector to take control of their finances and combat their money worries in the run up to Christmas with an easy-to-use online budgeting tool.
The charity, which is dedicated to those working in all areas of horticulture, is encouraging everyone, regardless of their financial position, to use the tool to find out how they are using their money and check their financial situation.
Perennial also offers a range of financial support from short-term help towards the cost of food, heating and clothing to those that may go through a period of illness, or families who have experienced a recent bereavement.
Wendy Tozer, Debt Advice Manager at Perennial, comments: "Most of the people we help require financial help and support of some kind and we know it is a huge contributing factor to stress and other mental health issues. But financial wellbeing is so much more than managing debt and we want everyone working in horticulture to have the confidence to take control of their money.
"Using the budgeting tool is a great first step towards understanding personal finances and achieving a good balance between income and spending. By being money-aware and creating a budget, we hope that those who are struggling financially will then be encouraged to spend wisely this Christmas. The tool also gives lots of tips for increasing income and reducing expenditure, giving people the means to make a change for themselves or find out where to go for further help."
Perennial's online budgeting tool is available via the Perennial website and can be used on a desktop computer, tablet or smart phone. It is very easy to use and does not require any technical or financial expertise.
All information provided is completely confidential and will not be shared with anyone else. People can use it anonymously if they wish or they can register to allow them to revisit their budget at any time and see how their planned changes are working.
Julia Hayne, Director of Services at Perennial, says: "We know that unplanned expenditure remains a challenge for families managing a stretched monthly budget. We can often make a positive change to people's circumstances and we find that when people seek our help early we can prevent their situation worsening. If you would like help, information or are worried about money please use our online tool and speak to us as soon as possible."
If you, or someone you know, needs help contact Perennial on 0800 093 8546 or email services@perennial.org.uk For more information visit www.perennial.org.uk/help.
---