News
Read our latest news
TOPSOIL To Sponsor Suffolk FA Grounds Support Programme
Fri 5 June 2020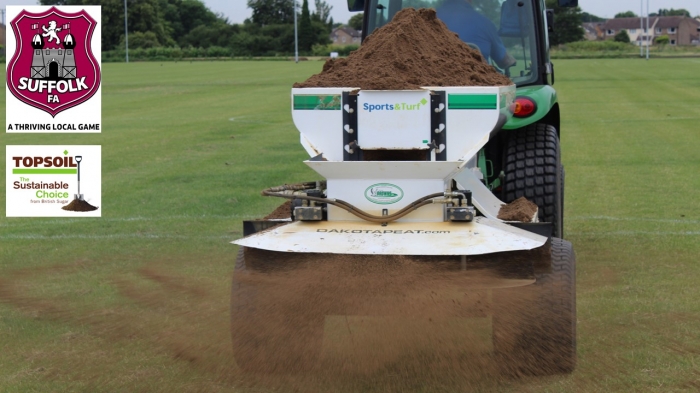 British Sugar TOPSOIL have recently announced their sponsorship of the Suffolk FA Grounds Support Programme, with the agreement initially running throughout the 2020-21 season.
Andy Spetch, National TOPSOIL Manager, said: "British Sugar TOPSOIL has a reputation for working with and supporting grassroots sport in East Anglia. British Sugar factories are located across the region and our soil and topdressing products are produced here.
"We are proud to be joining the Suffolk Grounds Support Programme for the 2020-21 season and look forward to working with Suffolk FA and the county's local clubs, using our knowledge and expertise to help them maintain and improve their natural turf pitches.
"We hope that by offering Suffolk FA-affiliated clubs a discounted price and technical support, they will be able to achieve excellent playing surfaces cost-effectively."
Suffolk FA Football Development Manager Jodie Allard said: "We are very pleased to be launching an official partnership with British Sugar TOPSOIL, who will be supporting the Grounds Support Programme.
"The improvement of grass football pitches remains a priority for the Suffolk FA and we are confident that the highly-regarded products that British Sugar TOPSOIL produce will be well utilised by the local grounds teams across Suffolk.
"We have seen first-hand the positive impact that their Sports&Turf topdressing product can have on improving grass pitches and we look forward to working closely with British Sugar TOPSOIL to continue to support and develop our grounds teams across the county."
For further information about the Suffolk FA Grounds Support Programme, please contact Jodie Allard on 01449 616606 or 07432 735961 or via email jodie.allard@suffolkfa.com
---