Events
Read about our latest events
FREE Stress Buster Workshop
Thu 20 December 2018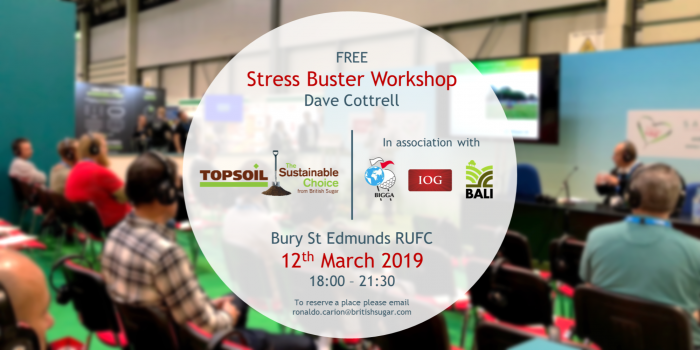 Tuesday, 12th March, 2019
6.00 p.m. – 9.30 p.m. - light supper provided
Venue: Bury St Edmunds RUFC, The Greene King IPA Haberden, Southgate Green, Bury St Edmunds IP33 2BL
---
Hosted by British Sugar TOPSOIL and supported by the IOG, BIGGA and BALI, this FREE workshop is for anyone working in a busy and pressured environment who needs some tools to help them keep their stress levels under control, allowing them to thrive, even when the pressure's on.
Dave Cottrell of Mindset Coaching and CoFit Personal Training has helped people from a broad range of professions identify the signs of undue stress and employ simple tools to keep it under control.
Even those working in the great outdoors in the grounds/greenkeeping and landscape industries are not immune from experiencing stress, so take advantage of this FREE, industry-focused workshop to help you better manage yourself and others.
Places are limited so please register by emailing ronaldo.carion@britishsugar.com
---